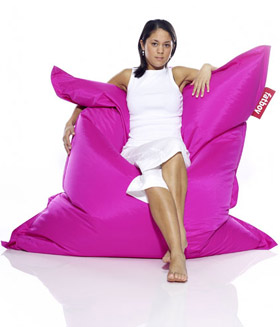 The rickety chairs strewn throughout our houses are hardly desirable options for our bottoms when we want some serious relaxation. The couch is always a good choice, but even that gets old. When you've already created a dent in the corner spot that you jump into everyday, you know you sit there too often. As you sink down into the couch that's molded to your body, sadly, you may think real comfort is unattainable. Well, the good news is, it's not. This Web Site is your savior. The online site carries many comfortable furniture items, most notably, the designer Fatboy.
No, it's not a chair for bigger people. It's a name brand that has brought a new twist to family comfort. Known as the "beanbag" from the 21st Century, the Fatboy chair continues to put a stylistic spin on the modern lounge chair. The Fatboy line of lifestyle products comes in a range of hip shapes, sizes and colors. Fatboy signifies comfort for the entire family, including the pets!
Fatboy carries these big, comfy chairs in junior sizes for kids, doggie lounge sizes, Fatboy hammocks, and even Fatboy ottomans. These slouchy chairs are perfect for rest, watching TV, playing with your pet and more. The chair doesn't take itself too seriously. Put it next to the dining room chairs that stick their noses straight up in the air and they will have nothing to talk about.
This chair is for relaxation and comfort first and foremost. It's an added bonus that is has a sleek style and simple shine to it that matches well with other furniture. So make your bottom half happy. Let your bones chill out. Give your muscles a break. Lay in a chair that makes you forget everything else, and lets you focus on your leisure for as long as you desire.