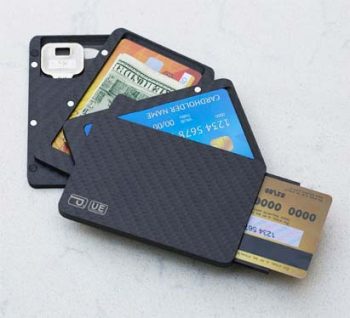 The Pitaka MagWallet is the world's first modular magnetic wallet that keeps all your daily essentials secure and accessible with a quick flick. You can just slide a card out when you need to pay. Thw wallets are RFID-Blocking, pocket friendly and customizable.
The Pitaka MagWallet is a minimalist wallet made out of machined carbon fiber. The carbon fiber materials allows it to be not only extremely light and slim but also ridiculously strong and durable. The wallet is made up of layers. Each has a function, and each connects using magnets.
The modular design means you can actually make the MagWallet thinner than its default configuration by removing a layer. You can also add layers to hold items likes keys and cash.