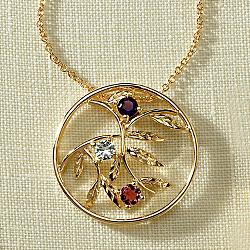 Here's a great gift for Mother's Day or Mom's Birthday. Choose the birthstones to represent children or other family members. The tradition of the family tree was popularized by the Victorians, who used them as a means of tracking and remembering a family's unique history. The tradition is modernized in our sophisticated necklace. Here, up to five birthstones can be set within the delicately forged 18k gold vermeil tree—one for each child or family member.
gemstones will be arranged from top to bottom
gemstones measure approximately 3 mm in diameter
pendant measures 1″ in diameter
18k gold cable chain adjusts from 16″-18″ long
lobster clasp
You can but it  at this internet store.