Cute Baby Gift – Hooded Animal Towels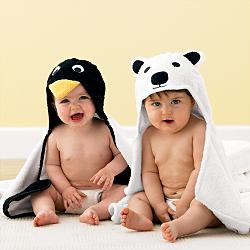 Need a gift for a baby? You can have your favorite animals come to life when the little one wears one of these terrycloth towels. The perfect wrap after a dip in the pool or tub, each hooded towel depicts one of three animals: seal, penguin or polar bear. While the soft terrycloth keeps them warm and dry, the whimsical faces will keep them entertained.
made of 100% cotton
offered in penguin, polar bear or seal. see below for available styles
measures approximately 33″ x 27″
fits babies up to two years old
imported
You can buy them at this store.