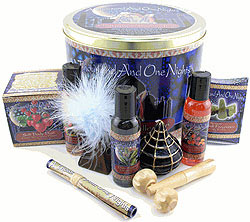 A Thousand And One Nights Romance CollectionThe creation of this passion-inducing romance collection was inspired by the legendary tale of seduction "A Thousand And One Nights". Each and every element of this romantic gift collection has been designed to help create an intimate experience where love and passion can flourish. Every fragrance and flavor has been carefully selected and crafted to elicit maximal pleasure for you and your lover. The elements of romance are all present in this gift tin. Now it is up to your and your lover to conjure up a thousand and one nights of passion.
The Kit Contains:
* Clove Fragrance Love Massage Oil, 2 oz.
* Passion Fruit and Ginger Flavor Warming Massage Oil, 2 oz.
* Cherry Almond Flavor Body Gelle', 2 oz.
* Exotic Strawberry Flavor Soft Body Dust, 4 oz
* An Exotic Feather Tickler
* A Romantic Candle
* Wooden Body Massager
* Patchouli Scented Incense Cone (5 cones)
* An Ancient Lovers Scroll
This collection of romantic items is tastefully packaged in a metal gift tin. It makes a terrific gift for someone you are passionate about.