Experience – the ultimate gift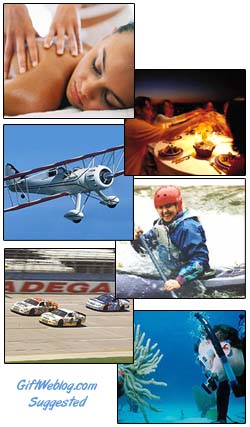 There's nothing like giving something the gift of experience, it is something they will always remember.
For an active person for can give them a gift certificate for Caving, Covert Ops & Special Forces training, Mountain Biking, Paintballing, ATV/Quad Bike Racing, Rock Climbing, Kayaking, Rodeo, Shark Diving, Nascar Stock Car Racing, Skiing, and Whitewater Rafting. These eperiences are available on this site.
For an adventurous person for can give them a gift certificate for Aerobatic Flights, Flying Lessons, Hot Air Balloon Ride, Weightless Space Flights, Horseback Riding, Drag Racing, Sailing Lessons, Scuba Diving Experiences, Fly MIG Jets and 4×4 Off Road Rally Driving.
For a more laid back experience try giving them a gift certificate for Invigorating Body Wrap, Body Massage, Spa, Yoge, Vidal Sassoon Makeover, Chocolate Workshop, Cooking Lessons at Home, Golf, Sushi Lessons, Wine Tasting & Wine Schools.