Gift for Stylish Guys / Metrosexuals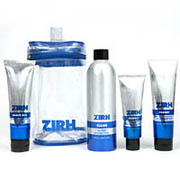 Need a gift for a man with a sense of fashion and loves to look good? Check out products from Zirh. There are a lot of men's grooming products out there to choose from, but no other company has ZIRH's expertise or committment to serving you. While shopping for grooming products, check out all the male celebrities using Zirh.
There are many kits to choose from like a STARTER KIT, TOTAL SHAVE KIT, ANTI-AGING KIT, OILY SKIN KIT, DRY OR SENSITIVE SKIN KIT, RAZORBURN RELIEF KIT, HAIR CARE KIT, & a SPA KIT.
You can buy these male grooming products on this site