Gift For Teens: Personalized Book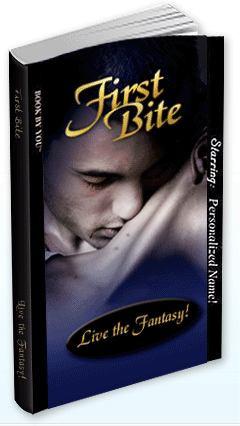 A high school senior's life changes forever when she meets a mysterious stranger with a dark secret. A personalized romance perfect for fans of Twilight, True Blood and Vampire Diaries!
This timeless teen romance begins with a chance encounter in a darkened library, when a bright, book-loving high school student has her life saved by a captivating stranger with haunting eyes and a terrible secret: he's doomed to a bloodthirsty immortality as a vampire.
This classic tale of forbidden romance is filled with suspense, tension, as well as a touch of humor. You can personalize four of our lead characters: the sexy, otherwordly, dangerous but sophisticated hero; the smart, compassionate, determined and brave heroine; the hero's cynical yet supportive vampire best friend; and the loyal, fun-loving girl who's our heroine's best friend.
First Bite will be cherished forever! Make yourself or some lucky recipient the star: experience a free personalized preview or order a personalized novel now. Click Here To Order!